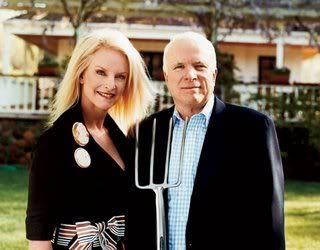 McCain
offers his wife up
for a lewd biker pageant which
ESPN
describes thusly:
It holds a Miss Buffalo Chip contest every night, which is essentially a topless beauty pageant. And occasionally bottomless, too. During a drenching rain Wednesday night, the contest broke up into smaller groups and one woman wound up dancing naked on a bar top. Her boyfriend/husband saw her and angrily dragged her away as she struggled to put her pants back on and muttered something about how, "It's only this one week a year."
I guess that's not what Obama
meant
by a campaign you can't be proud of, but hey.
What if, say, Barack had offered Michelle up to be Jay-Z's next video ho? Folks would be losing their minds.
Wonkette
caps it perfectly:
There's a "beauty contest" of sorts held each summer at the Sturgis rally. And it's just the kind of honor you'd want to see your wife achieve, if you're the kind of repulsive old misogynist who calls your wife "trollop" and "cunt."

Add "Miss Buffalo Chip" to the list of foul things McCain calls his wife — it means "bison shit."
I really hope the Hillary Holdouts - especially the women - consider this.